Exceptional gray coverage that eliminates overly warm brassy tones with artfully placed highlights.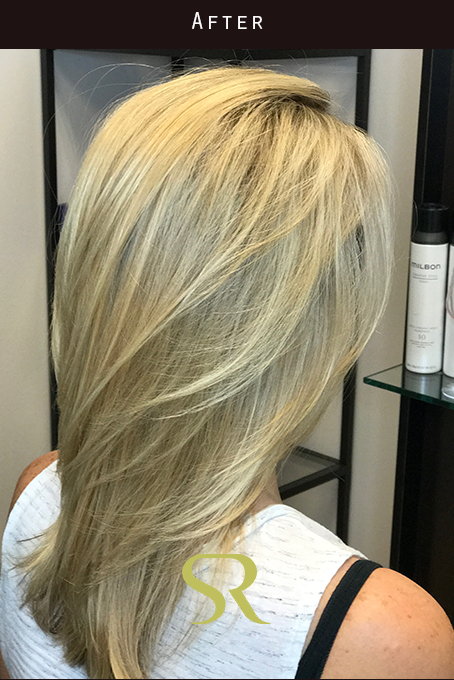 STACY B. (LITTLE ELM, TEXAS) Scott is ABSOLUTELY AMAZING! He has transformed my damaged, over bleached hair to hair I love and actually wake up in the morning excited to do. My hair stylist search has ended with Scott Risk, he really listens and does what you want. I have bounce and movement back in my hair, he is a great hairstylist. If you are looking for chic, sexy, conservative hair, he's your guy!
DEBBIE G. (ALLEN, TEXAS) Wow, I feel so lucky to have found Scott Risk! Scott is an outstanding hairstylist who cares and has truly mastered his craft. I left with the best hair cut and color I have ever had. My hair is fine and I never knew how much movement and body I actually had until Scott added HIS touch to a previous stylists botched hi-light and low-light job. My color looks amazing! Scott is truly an artist, who has a passion for making his clients look amazing!
ANGELA T. (FRISCO, TEXAS) My hair is dirty blond and it was ruined with terrible highlights that left horrid dark roots and irregular bold color. Yellow and brassy. Awful. Scott is so talented and passionate about what he does. His assessment and solution was dead on and perfect. My hair and highlights are gorgeous. Soooo natural. Like sun kissed champagne. It's blended so beautifully. My hair has never felt this soft and silky. The cut is fabulous and the best blowout and style I've ever had. He was such a pleasure to get to know. He went above and beyond to help me. Thank you Scott for your care and talent. Ladies and Gents, you will NOT be disapointed.